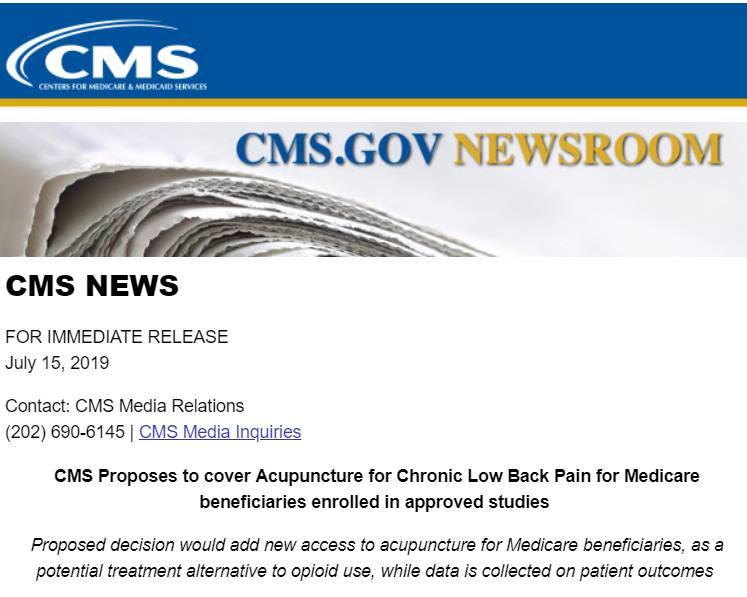 Medicare is considering covering Acupuncture and is looking for public comments on whether they should or should not.

For now, the Trump administration is seeking to provide Medicare payments to specific trial studies currently underway for the treatment of lower back pain by acupuncture.
See the press release by Medicare on the topic of Medicare covering Acupuncture:


 CMS Proposes to cover Acupuncture for Chronic Low Back Pain for Medicare beneficiaries enrolled in approved studies
 Proposed decision would add new access to acupuncture for Medicare beneficiaries, as a potential treatment alternative to opioid use, while data is collected on patient outcomes
Today the Centers for Medicare & Medicaid Services (CMS) proposed to cover acupuncture for Medicare patients with chronic low back pain who are enrolled participants either in clinical trials sponsored by the National Institutes of Health (NIH) or in CMS-approved studies.  Currently, acupuncture is non-covered by Medicare.  CMS conducted evidence reviews to inform today's proposal, and the agency recognizes that the evidence base for acupuncture has grown in recent years, but questions remain.
"Today's proposal represents the Trump Administration's commitment to providing Americans with access to a wide array of options to support their health," said HHS Secretary Alex Azar. "Defeating our country's epidemic of opioid addiction requires identifying all possible ways to treat the very real problem of chronic pain, and this proposal would provide patients with new options while expanding our scientific understanding of alternative approaches to pain."
Acupuncture is a treatment in which practitioners stimulate specific points on the body, most often by inserting thin needles through the skin. CMS has been actively collaborating with the National Institutes of Health (NIH) as part of the Opioids Workgroup and Evidence Generation Workgroup to launch studies on acupuncture for the treatment of chronic low back pain in adults 65 years of age and older. Under today's proposed decision, CMS would continue its collaboration with NIH to further develop evidence to inform future Medicare coverage determinations for acupuncture treatment for beneficiaries with chronic low back pain.
"Chronic low back pain impacts many Medicare patients and is a leading reason for opioid prescribing," said CMS Principal Deputy Administrator of Operations and Policy Kimberly Brandt.  "Today's proposed decision would provide Medicare patients who suffer from chronic low back pain with access to a nonpharmacologic treatment option and could help reduce reliance on prescription opioids. CMS will work closely with our sister agencies to monitor outcomes for Medicare beneficiaries receiving acupuncture to inform our understanding of the efficacy of this therapeutic approach."
To read the proposed decision, visit the CMS website at: https://www.cms.gov/medicare-coverage-database/details/nca-tracking-sheet.aspx?NCAId=295
Considering Medicare Supplement insurance to cover the parts of Medicare NOT covered by original Medicare? 
Call us for FREE help. 1-800-729-9590